London Eye (Millennium Wheel)
---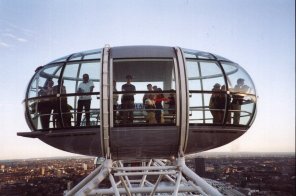 These pictures on the following pages were taken between Monday 31 July 2000 and Thursday 3 August 2000.
When I was in London, I visited the London Eye 3 times. Normally, it is £8.50 a ride (£12.50 is 2005 Prices), but because I have my Tussauds Group Season Ticket, I get to ride it as many times as I like for free. (Tussauds Season tickets are no longer valid on the London Eye)
I had a fantastic view of London at Night on Monday 31 July 2000. No clouds or rain. I never seen London like this before. You have to be there to experience it. Tuesday 1 August 2000 was also a clear dry day. We just saw Windsor Castle from the top, 25 miles away! It was a very clear day.
At 135 metres (450 feet) tall and me afraid of heights, I manage to overcome my fear by going on it. Here are my pictures.
---
For the official London Eye Web Site, click here.

---
You're Visitor Since 1 December 1996
This Page Last Updated
29 October 2005
To email me, please click here