Background Info
---
How Ledbury became to be known as Ledbury
A town east of Hereford, that takes its name from the River Leadon, on which it stands. The old English berg (hill) has been added to the river name, which probably comes from the conjectural Old English hlid (slope). Ledbury was recorded in the Doomsday Book as Liedeberge. The town is situated on the southern slop of the Malvern Hill.
People have lived in the area since the Stone Age. Around 1120, Ledbury became a market town.
---
Where is Ledbury
Ledbury is a town in the County of Herefordshire in England. It is located 14 miles (22km) from Hereford, 17 miles (27km) from Gloucester, 17 miles (27km) from Worcester, 10 miles (16km) from Malvern, 22 miles (35km) from Cheltenham, 43 miles (68km) from Birmingham, 122 miles (195km) from London. Ledbury is only 4 miles (6km) from the M50 motorway, which connects to the M5 motorway. Ledbury has a rail connection to the whole of the UK, with direct trains from Hereford, Birmingham, Nottingham, Oxford, Reading and London. Occasionally the odd one goes to Stansted Airport! Changing train once and it covers a large part of the UK, including Manchester, Cardiff, Bristol and Gatwick Airport.
A lot of people think Herefordshire is Hertfordshire for some reason or another. A good case of this is when the Ledbury Primary School had a special film night a long time ago, the supplier of the film sent the film to Hertfordshire not Herefordshire and cause the event to be delayed. It only a one letter change but over 100 miles apart!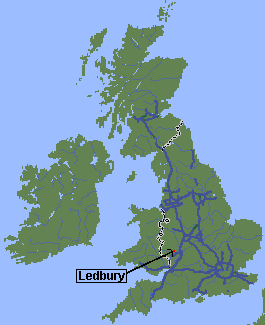 The Map of the United Kingdom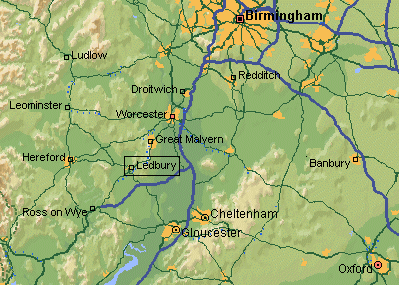 Where Ledbury is
(The dark blue lines are the motorways in the area and not rivers!)
---
Events in Ledbury throughout the Year (not necessary annually)
The Poetry Festival, The Beer Festival, The Street Fair, Ledbury Carnival, English Festival. 1998 Poet Festival was between 9th-19th of July 1998. 1999 Dates was between 27 June -10th July 1999. 2000 Dates was between 29 June - 9 July 2000, 2002 Dates was between 4 - 14 July 2002. 2005 Dates was between 2-12 July 2005.
---
Local to Visit Places
Ledbury (of course). Church Lane, The Market House, The Old Grammar School, Butchers Row House.
Malvern : Have a gentle walk on the hills or visit the historic town. There is the Three Counties Show every year in June near Malvern.
Eastnor Castle : Visit the local castle. Not opened all year round.
Hereford, Worcester or Gloucester have plenty of shops.
---
---
You're Visitor Since 1 December 1996
This Page Last Updated
29 October 2005
To email me, please click here