Madrid 2005
Day 1 - Arrive in Madrid
Friday 18 March 2005
---
Day 1
We left cold Britain to Madrid from Birmingham International Airport. This was the first time I flew from Birmingham. After checking, we waited in the passenger lounge. We saw the Plane, a 100 seater British Airways plane. Departed just after 10:30am and arrived in Madrid Barajas airport about 2 hours 10 minutes later. After immigration and picked up our luggage, we proceeded to arrivals.
As soon as we left the control point, we met our host for the 3 days. He explained the itinerary for the next 3 days. We were then taken to our transport (Mercedes car) and taken to our hotel. It was a lovely 22C when we arrived in Madrid. It was hot and after cold temperatures in Britain, it was a bit of a shock especially in March.
During the transfer, we saw some of the outskirts of Madrid. It was strange sitting in car, on the right hand side of the road. The road signs was in Spanish and also the speed in Kilometres per hour and not miles per hour. It was a very busy Friday as we spent a lot of time in traffic queues. The driver said it was Holy Week, the week before Easter. Finally, we reached our hotel.
Our hotel was a 4 star hotel and in a nice location. At reception, we were given a parcel. Was not expecting this. Discovered afterwards it was our Real Madrid Shirt, unsigned at the time. We had a problem with the room lighting as we could not turn them out. I found out after 10 minutes that I needed to insert my smartcard into a machine next to the door to turn the lights on! After refreshing ourselves and finding out where on the map we are, we headed out of the hotel and walk along a road.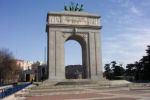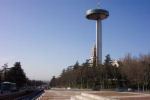 We were heading to the nearest green area, in this case, Parque Del Oeste. It look so short on the map, but in reality, it was a long walk, about 20 minutes. We arrived on the outskirts of the park and saw this strange tower, which seems to be half circular. This was the Faro De Madrid tower. At the time we did not know what it was. It is an observation tower. As I suffer from vertigo, it was a good job we did not know at the time. Opposite that was the Arco De La Victoria (Victoria Arch). Then we headed deeper into the park along a stream. Not many people there as it looked that we had the whole park to ourselves.
After more walking, we came across a building with cables hanging out. This was the Teleférico cable car ride, which did not run on the day we turned up. Walk along a bit and we came across the Templo De Debod, a building which has a small enclosure of water around it.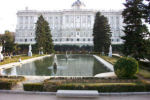 Time was against us as we needed to be at the hotel by 8pm to be picked up for dinner, so we carried on walking and reached the Palacio Real building. Spend a few minutes and we then decided that we needed to get back to the hotel. We did not take the metro but walked back to the hotel. It was a long walk! We saw more of the sights by walking back. I think we walked about 4 miles in total. We arrived back at our hotel and freshen up for dinner.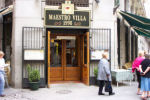 8pm and we were meet by our host and taken by taxi to the central of Madrid for dinner. We headed to the Maestro Villa Restaurant near Plaza Mayor. We had a traditional Spanish meal which included something which looked like white candlesticks (we discovered the next day it was white asparagus), croquettes, Spanish sausage (this is just for starters). Main course was Steak (rare) and some vegetables including potatoes and artichokes. Nice meal, but the steak was undercook for my liking. As we were hungry, we ate it anyway. We finished with some dessert and coffee. After the meal, we headed back to the hotel.
---
For day 2 diary, click here
For more day 1 pictures, click here (2 pages)
To return to the main menu click here
Click on the photos below to visit the section
| | |
| --- | --- |
| Day 1: Walk around the park, evening | Day 2: Bus Tour |
| Day 2: Tour of Madrid | Day 3: Zoo Madrid |
| Day 2: Tour of Football Stadium | Day 3 : Cable Car (Teleférico) |
| Day 2: Walks Around Madrid | Day 3: Football Match |
---
You're Visitor Since 1 December 1996
This Page Last Updated
29 October 2005
To email me, please click here