Madrid 2005
---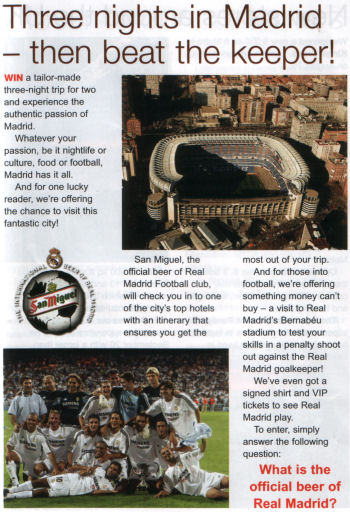 Let me start, who enters holiday competition and think that you never win. That is exactly what I thought!
In my workplace, there was a staff only competition for a trip to Madrid for 3 nights includes a football match, a signed shirt and an opportunity for a penalty shootout (which never happened due to problems).
I entered the competition on Thursday 21 October 2004 via email, the closing date was on Monday 25 October and I received a phone call on Tuesday 26 October 2004 saying that I won the competition!
It was an all expenses paid trip including a 4 star hotel, and all meals. What was not included was the extras things we wanted to do, eg. Zoo Madrid*, the Cable Car (Teleférico*) and Bus Tour (Madrid Vision) (*Some of the sites are in Spanish and all links open in a new window)
Here is my diary of events over the 3 days from Friday 18 March 2005 to Monday 21 March 2005. 2 ways in seeing this, by diary or by photos. Click on the photo to go to the page with photos. I apologise in advance for some of the Spanish names and words used there. I cannot always get the accent on the keyboard! Also I do apologise if I make any mistakes here.
Diary of Events (there are some photos here)
Day 1 - Arrive in Madrid
Day 2 - Tour of Madrid, Tour of Bernabeu Stadium, Bus tour
Day 3 - Zoo Madrid, Teleférico, Football Match, Day 4 - Departure
Photos (21 pages worth, over 220 photos in total!)
| | |
| --- | --- |
| Day 1: Walk around the park, evening | Day 2: Bus Tour |
| Day 2: Tour of Madrid | Day 3: Zoo Madrid |
| Day 2: Tour of Football Stadium | Day 3 : Cable Car (Teleférico) |
| Day 2: Walks Around Madrid | Day 3: Football Match |
I will not forget this holiday and what a prize. Cannot really put a value of it. A holiday of a lifetime.
*By the way, the answer is San Miguel
Some links to Spanish Sites
Zoo Madrid
Teleférico
Madrid Vision
You're Visitor Since 1 December 1996
This Page Last Updated
29 October 2005
To email me, please click here