MicroLot Lotto 2000 : A Lottery Simulator Program
www.microlot.co.uk
---

A Lottery Simulator and Analysis Program
4.04.2012.06 is now released.
The only change is the data file, a fix for calculating double/triple numbers and Windows 7 Compatible install program
Data file updated to include 04 June 2012 UK Draws
Works with Windows 7 as well as Windows XP, 2000. Vista requires a slight configuration (See below)
Not had chance to test this in Windows 8.
Wednesday 4 July 2012 : The fault in the lotto update function is now fixed.

The latest database has been updated on 20 May 2017
---
I currently accept paypal and UK cheque payments only.
NOW ONLY £5 (Download version)
---
MicroLot Lotto 2000 Version 4.04 released!
Download Link at the bottom of this page.
MicroLot Lotto 2000 version 4.04 : A Lottery Simulator and Analysis Program. Well it is also a number selector as well.
This program took me a while to write. It began way back in May 1996, during my final year examinations at University. I was bored in revision (oh dear) and I wrote a quick lottery program. It worked alright. After having an internet account, I thought, would it be a good idea to put it on the net, so here it is. Version 1 was released on 1st January 1997 and over the five and a bit months, over 2000 people have tried it. Version 2 and 3 has reached over 8500 downloads in a year.
Major modifications were made, including that this program will work with a majority of lotteries around the world, not just the UK. All functions are operational in the shareware version with restricted use. Full registration via internet, e-mail or CD Rom.
UK Users : Please note. Version 4.04 now support The National Lottery Thunderball, Lotto Plus 5 and Extra draws. (The calculating best numbers and matches will not work with Thunderball). Also note that due to the name change, anyone updating the results will see a draw name change from National Lottery Draw, to UK Lotto and Lottery Extra to Lotto Extra. The current version will NOT work with euromillions. Also this program is suitable for Lotto Hotpicks 2 and Hotpicks 3 selection, where it will work out the set of 2 or 3 numbers which comes out the most times. Hotpicks 4 will generate too many combinations!! I am looking at making this Euromillions compatible. Don't know how long it will take.
---
Quick summary:
Select how many balls you require and how many selected.
Calculates an ideal set of numbers, based on previous draws.
Graph display showing main and bonus numbers, Statistics of Hot and Cold Numbers, Longest Last Drawn, Drawn in the last few draws.
Previous numbers shown in many different ways, such as Frequency order, Date Last Drawn order, Numerical order.
Use your Favourite numbers as part of the number generator.
Simulator Draw (Play the lottery in the simulator, without buying a ticket). What a shame it is not the real thing
Entering current and previous draw results, even creating new lottery database.
Check numbers against winning in the past. The program will tell you how many you have matched.
Set up to 5 different lotteries around the world and for quicker access (by pressing one button) switching between them.
Compatible with most lotteries around the world, up to 7 numbers + 1 bonus number and up to 60 numbers. Defaults to UK National Lottery to begin with.
With the package, UK Lotto, UK Thunderball, UK Lotto Extra, UK Lotto Plus 5. (Up to date 5 May 2012). Results will get updated frequently. A download is required to update the lottery results to the latest version.
A help file is included with the program.
The UK included with MicroLot Lotto.
New for version 4
Calculate pairs and triple numbers
Syndicate Number Check. Check up to 14 different sets of numbers on any previous draw.
Consecutive Number Check. Find numbers which appear in several draws in a row.
Longest/Shortest Gap Order. Find out which numbers has the longest/shortest gap or even gaps of over 10,20,30 or 40 draws.
Editing Numbers within MicroLot Lotto.
US Powerball compatible, including all Powerball numbers and UK National Lottery Thunderball compatible.
New to this version. Registered Users will get extra features and not found in the shareware mode.
Download updated UK main and Thunderball Lottery automatically.
Download news items including latest UK Draw results.
Windows 95, 98, NT, ME, 2000, Vista and 7 compatible. It will not work on Windows 3.1 (who uses windows 3.1 nowadays) or macs or ipads (yes I got asked the question)
A new improved registration process, automatically unlocking with a reg code given to you, no matter on what PC it is loaded on.
New for version 4.02
Freeze Date Feature in Editing/Adding Draws. If you enter 5 sets of numbers for each lottery draw for a Saturday (like I do!) and you enter them on a Sunday, it now freezes the date for the Saturdays date rather than changing the date everytime you enter a new date.
A revise registration section which implements the new shareware company
New for Version 4.03
The only update this contains is the changes in the registration part of the program. If you are using version 4.02, there is no need to upgrade, unless you want the lottery results.
Also if you use the get current UK Lottery results, you will need this update as it will show all the UK lottery draws.
Version 4.04 contains up to date lottery draws for the UK as at 05 May 2012.
*** First update in 5 years! Finally got the development software to work with Windows XP mode in Windows 7. ***
Increased the number of draws Microlot can handle from 2000 to 3000. When I first wrote this program, I never imagine that the software is still used today after all these years
Fix the calculation for double and triple numbers (Hotpick 2 and Hotpick 3). Note triple number is only available on the paid version. Not available on the trial version. A save option has been added.
Restrict the gap between draws to 1000 draws. There is an issue with this as a line can only fit 1000 characters and this can't be extended. It just crashes the software if greater than 1000 characters (each draw takes up 5 characters)
Remove the "get uk lottery draw results" button in update as this will never come back. It just takes too long to update the website every day!
Plans for futures versions (all registered users will get the new version free).
---
ALL registered users will get FREE updates. Prices for Version 4.04 will be UK£5.00. More details below. There is no restriction on how many PC MicroLot Lotto can be installed. Future updates will then be available via the internet.
You can pay by Credit Card (via paypal), and the good old cheques and cash in GB pounds. All those who paid for any version before 4.04 will get version 4.04 FREE.
PLEASE read the readme.txt or Help file included with the program
A screen shot of MicroLot Lotto 4.04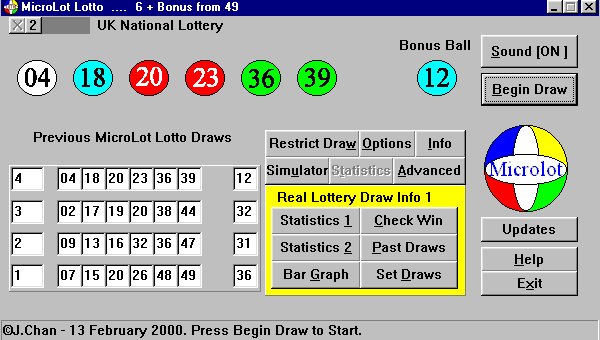 To see more screen shots (10 in all), click here.
Specification of MicroLot Lotto 2000
Version :
4.04
Date Released :
Version 4.00 Wednesday 16 February 1998 at 00:01 GMT
Version 4.02 Sunday 18 March 2001 at 20:00 GMT
Version 4.03 Monday 24 December 2001 at 15:00 GMT
Version 4.04 Sunday 6 May 2012 at 12:00 BST
Minor Update (Lottery Files): 4 June 2012
Language Used :
Borland Delphi 2 Desktop for Windows 95/98 (now Windows XP mode in Windows 7)
Platform :
All Windows versions Windows 95,98,2000,NT,ME,XP,Vista,7

For Windows Vista users, you need to enable full control on the folder before any data is saved.
Go to program files, right mouse click on MicroLot Lotto and select properties, click on security, click on edit, click on user, click on full control, press ok, press ok.

Registration :
Shareware version (20 days or 40 runs). Free updates for registered paid users.

Payment Method
You can pay via a variety of method, mention below. The different prices in these system only reflect in bank charges. Charges are based on your credit card company.

Due to the number of video files on the CD, I cannot fit it on a CD, so now it will be available on DVD ROM for the same cost.
The video files will not play within the software using Windows Vista/7 but can be played using windows media player.

Due to the lack of time in releasing a new version, I am reducing the cost of MicroLot Lotto until there is another version. Also due to the exchange rate, I am no longer able to accept Euros but good news is that paying by paypal will make it cheaper.

| | | |
| --- | --- | --- |
| £ = UK Pounds Sterling | | (UK Cheque) |
| Download Licence (Unlocking Program via email) | £5.00 | £5.00 |
| DVD Version (Includes some lottery videos) (FREE POSTAGE WORLDWIDE) | £10.00 | £10.00 |

Cheques accepted but must be drawn from a UK bank. Cash accepted but at your own risk. Credit Cards can now be processed via paypal. Prices are subject to change. My email address for MicroLot is .

Other Useful Info
It completely works with Windows XP, Vista and Windows 7

For Windows Vista users, you need to enable full control on the folder before any data is saved.
Go to program files, right mouse click on MicroLot Lotto and select properties, click on security, click on edit, click on user, click on full control, press ok, press ok.

Note when running the software it might come up with as unsafe to run as it cannot verify the publisher. This is ok and can be safely be ignored.

For Windows Windows 7 users, you will need to download the windows help program from http://support.microsoft.com/kb/917607 to see the help instructions

After reading all that and you would like to try MicroLot Lotto, please click on either of the links below. Anyone upgrading can just install version 4.04 over an existing copy and won't affect any registration.
Download here for exe file. Download here for zip file (which you need to unzip). Both are the same version. Some PC won't let you download exe files. Both less than 1.5MB.
Please read the help file. I'm getting emails from people who are having problems with MicroLot Lotto and the answers are in the help file.
Windows 7 will also need to download the windows help program from download here
Also note for Windows 7 and IE9 user. When you download it will say that "this program is not commonly downloaded and could harm your computer". Then click on Actions, more options then Run Anyway. This is perfectly normally and not to worry.
---
Current Data Files available : UK National Lottery, UK Lotto Plus 5, UK Thunderball, UK Lottery Extra, UK Daily Play. Data files updated when I get a chance. Use the automatic download update via MicroLot Lotto.
---

---
You're Visitor Since 1 December 1996
This Page Last Updated
21 May 2017
To email me, please click here