Heart of England Rail Rover Week
---
Between Monday 6 July and Sunday 12 July 1998, I did something I always wanted to do. That is to spend a week, travelling on Trains around the Midland Network.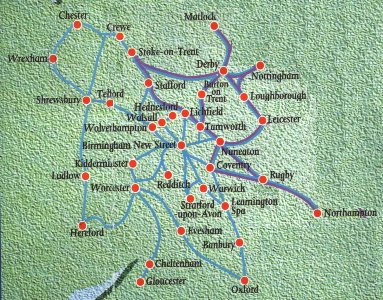 From the map above, the border stations are Hereford, Ludlow, Shrewsbury, Wrexham, Chester, Crewe, Stoke-on-Trent, Derby, Matlock, Nottingham, Leicester, Nuneaton, Rugby, Northampton, Leamington Spa, Oxford and Gloucester. Any train and any train operator was permitted within this area, with the exception of the Virgin Trains from Gloucester to Birmingham direct.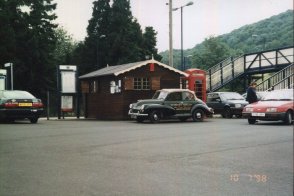 My Starting Station - Ledbury, Herefordshire
I paid £37.25 (with a Young Persons Railcard) 1998 prices to enable me to travel off peak (after 9am weekdays and any time at Weekend). My starting station was Ledbury. I returned to Ledbury after each days travelling. There are other rail rovers available. Please consult your local train station.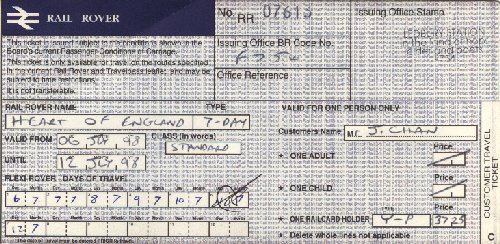 My Travelling Ticket
My final number of miles I have achieved was 2003¼ miles (3200 kms).
The total duration of my trip was 43 Hours 55 Minutes.
The total time I spend idle, meaning not travelling at all, this includes waiting for trains, Shopping on Tuesday and Wednesday and Heights of Abraham on Friday was 21 Hours 21 Minutes
What now follows are the journey details and some of my photos from my trip. When I mention Home Station below, this means that I have been to that station the most often on that day, either set foot on the station or went on a train which travelled through.
---

You're Visitor Since 1 December 1996
This Page Last Updated
29 October 2005
To email me, please click here