Hear'Say Concert
At the NEC Arena, Birmingham
Saturday 15 September 2001
---
On Saturday 15 September 2001, I had a opportunity of seeing Hear'Say in Concert at the National Exhibition Centre Arena (NEC Arena) in Birmingham, UK. I booked this ticket way back in April 2001. They only release One single and One Album in April 2001 and became the fastest selling non charity record in the UK, selling over 500,000 copies of their first single, "Pure and Simple"
I arrived in Birmingham NEC at 5:45pm. The NEC arena is the easiest place to get to, with fast direct train access from Birmingham and London. I arrived at the NEC by car next to the M42. I headed to the NEC Forum area where everyone was gathering, as the 2:30pm performance was ending. I queued for 20 minutes before we were let in.
I found my way to my seat at around 6:30pm. It started to fill up quite quickly nearer to 7:30pm, the schedule start time, but around me, there were lots of empty seats and these didn't get filled up until the fourth supporting group came on.
Hear'Say didn't come on until 9pm. From 7:30pm, 4 supporting groups came onto the stage. In order, Scandal'us, Fixate, Super Sister and No Angel (German Popstars). The support groups in total lasted for 1 hour. Hear'Say came on a 9pm and finished at around 10:40pm. Each member of Hear'say did single solo songs.
The event from Manchester on Saturday 29 September 2001 was broadcast on Sky Box Office.
With the help with Sky Box Office, the songs in order were : Breathe, One, One Step Closer, Sweet Alibi, Chains (Myleene Solo), I found Love (Danny Solo), Another Lover, Latino Medley, Bridge over Trouble Water, How do I Live (Kym Solo), Boogie Wonderland, Not the Kind, Colour Blind, Never Too Much (Noel Solo), Express Yourself (Suzanne Solo), Monday Monday, The Way To Your Love, Love Will Never End, Carried Away, Pure and Simple.
As you all know, Hearsay have now split up.
Flash photography does not work in these situations unless you are in the first few rows! With a bit of carefully zooming in using my scanner and my art program, I achieved the following photos.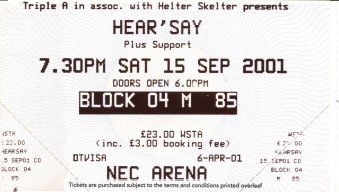 | | |
| --- | --- |
| | |
| The opening act, singing "Breathe" | A costume change in the 2nd song, singing "One" |
| | |
| Time to calm things down, singing "One Step Closer" | Show me the (right) way to your love! Well they are singing "Another Lover" |
| | |
| Hear'say and the backing dancers | They are having fun! |
| | |
| They are really having a great time | The set is a pinball machine. Oh, they are singing "Not That Kind" |
| | |
| Getting close up between the video wall singing "Monday Monday" | The finale, "Pure and Simple" |
---
---
You're Visitor Since 1 December 1996
This Page Last Updated
29 October 2005
To email me, please click here