S Club 7 Concert
At the NEC Arena, Birmingham
Thursday 28 February 2002
---
On Thursday 28 February 2002, I had a opportunity of seeing one of my favourite pop group (again), S Club 7 in Concert at the National Exhibition Centre Arena (NEC Arena) in Birmingham, UK. I booked this ticket way back in September 2001.
I arrived in Birmingham NEC at 6:30pm. The NEC arena is the easiest place to get to, with fast direct train access from Birmingham and London. I arrived at the NEC by car next to the M42. I headed to the NEC Forum area where everyone was gathering. I didn't have to queue this time as I went straight in, as the doors were already open for 30 minutes. Everyone had their bags search for illegal cans or cameras! They let in small camera into the arena. Souvenir time! I brought a programme for £10 and a small amounts of food (again)! The ticket for the concert was £23.00, brought in September 2001 via the internet.
I found my way to my seat at around 7:00pm. S Club 7 didn't come on until 8:45pm. From 7:30pm, 2 supporting groups came onto the stage, 3SL and S Club Juniors (which was formed in association with CBBC and S Club 7). S Club 7 came on a 9:00pm and finished at around 10:20pm. What is amazing about this concert was the walkway which came down from the ceilling and the S Clubbers walked over the audience (I was directly under one!)
Some of these photos were modified to produce these effects. Some of these photos are the actual photo taken (just resized for this page). As there are too many, the concert photos are split into 2 pages.
This is page 1 out of 2. Click here for page 1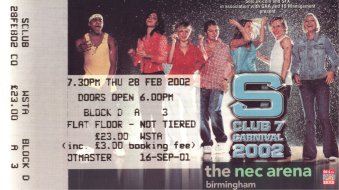 | | |
| --- | --- |
| | |
| Pop Group 3SL | S Club Juniors |
| | |
| S Club Juniors | The start of the show |
| | |
| The carnival mood | They are at the seaside! |
| | |
| A costume change already! | The suns out |
| | |
| Never had a dream come true | Disco time |
---
---
You're Visitor Since 1 December 1996
This Page Last Updated
29 October 2005
To email me, please click here