S Club 7 Concert
At the NEC Arena, Birmingham
Saturday 9 June 2001
---
On Saturday 9 June 2001, I had a opportunity of seeing one of my favourite pop group, S Club 7 in Concert at the National Exhibition Centre Arena (NEC Arena) in Birmingham, UK. I booked this ticket way back in December 2000.
I arrived in Birmingham NEC at 6pm. The NEC arena is the easiest place to get to, with fast direct train access from Birmingham and London. I arrived at the NEC by car next to the M42. I headed to the NEC Forum area where everyone was gathering. I didn't have to queue this time as I arrived at the right time. Everyone had their bags search for illegal cans or cameras! They let in small camera into the arena. Souvenir time! I brought a programme for £10 and various amounts of food (again)! The ticket for the concert was £20.00, brought in December 2000 via the internet.
I found my way to my seat at around 6:45pm and just sat there looking at the set, the arena, the programme and an ice cream seller bothering me ask every ten minutes, do I want an ice cream!. S Club 7 didn't come on until 8:45pm. From 7:30pm, 2 supporting groups came onto the stage, Super Sister and Human Nature. S Club 7 came on a 8:45pm and finished at around 10:15pm. What is amazing about this concert is the amount of set changes. About 4 in total.
These pictures were the second best I have ever taken at a concert, the best using my 35mm camera. I had a digital camera on the other occasion.
With a bit of carefully zooming in using my scanner and my art program, I achieved the following photos.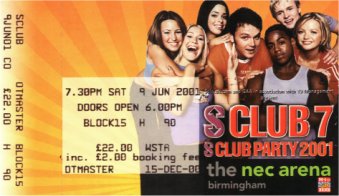 | | |
| --- | --- |
| | |
| S Club going karting. | The concert starts. |
| | |
| The S Club 7 Set. | Is that car from Miami 7 or LA 7. |
| | |
| They are in Hollywood now or are they in Hollyw! | Thoses S Clubers are everywhere, including in between the Hollywood sign. |
| | |
| Now they are at the beach. | They are all wearing white, meaning they are singing "Never Had A Dream Come True"! |
| | |
| Another set change. This time you can just see the band in the back. | It's near the end of the show now. |
For S Club Concert 2 in February 2002 Click here
---
---
You're Visitor Since 1 December 1996
This Page Last Updated
29 October 2005
To email me, please click here