Spice Girls Concert
At the Manchester Evening News Arena
Saturday 4 December 1999
---
On Saturday 4 December 1999, I had a opportunity of seeing my favourite pop group, the Spice Girls in Concert at the Manchester Evening News Arena (MEN Arena) in Manchester, UK. I booked this ticket way back in May 1999. I nearly went to Earl's Court in London, UK but the tickets sold out when I came to buy one!
Here were the playlist for the concert.
1: Spice Up Your Life, 2: Something Kinda Funny, 3: Right Back At Ya (NEW), 4: Step to Me, 5: Too Much,
6: Mama, 7: Woman (NEW), 8: 2 Become 1, 9: Stop, 10: Holler Holler (NEW), 11: Who Do You Think You Are,
12: Never Give Up, 13: Wannabe, 14: Goodbye, 15: Viva Forever,
16: Christmas Special -Wish It Could Be Christmas Everyday, 17: Wannabe (Again)
I arrived in Manchester at 3pm and I walked around Manchester City Centre to see what was there. I have not been to Manchester for at least 10 years! It has changed. Photos of the City Centre with the trams will appear here very soon. When I arrived in Manchester, I couldn't work out where it is. The MEN arena is located next to Victoria Railway Station. At 5pm, I started walking to the MEN Arena. There were so many entrances so I walked all the way round the arena for 15 minutes. I arrived too early. 5:40pm, I found where everyone was. 6:05pm and we were admitted to the Arena. Souvenir time! I brought a programme for £7, a mug for £6 and a poster for £3. The ticket for the concert was £23, brought in May 1999.
I found my way to my seat at around 6:45pm and just sat there looking at the set. It started to fill up quite quickly nearer to 8pm, the schedule start time. The Mexican wave was achieved in the arena and lasted for about 5 minutes. 8:05pm, the Spice Girls came out and started singing. The show lasted for 1 hour 45 minutes.
The Spice Girls sang 3 new songs, Right Back At Ya, Woman and Holler Holler. It was about time they have a new song. Also, for the first time in 4 years, they will not have a Christmas Number One. 1996: 2 Become 1, 1997: Too Much, 1998: Goodbye.
This was my first concert I have visited in person in 11 years. The concert was brilliant but not the best one I have seen. As I have Sky Digital, I have seen several other concert on Pay Per View TV (£10 each), Spice Girls (August 1998), Boyzone (October 1998), Robbie Williams (July 1999) (FREE) and Steps (October 1999). Steps is the best!
This event was broadcast live from Earl's Court in London, UK, on Sky One on Tuesday 14 December 1999 at 8pm GMT in the UK.
Due to the lighting and my cheap camera, the picture quality is not very good. Flash photography does not work in these situations!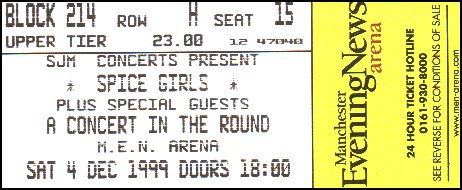 ---
---
You're Visitor Since 1 December 1996
This Page Last Updated
29 October 2005
To email me, please click here