Kylie Concert
At the NEC Arena, Birmingham
Thursday 9 May 2002
---
On Thursday 9 May 2002, I had a opportunity of seeing the Kylie Minogue Concert at the National Exhibition Centre Arena (NEC Arena) in Birmingham, UK. I ordered the tickets a massive 7 months before the concert.
I arrived in Birmingham NEC at 6:30pm. The NEC arena is the easiest place to get to, with fast direct train access from Birmingham and London. I arrived at the NEC by car next to the M42. I headed to the NEC main entrance. The ticket for the concert was £28.00, brought in November 2001 via the internet. This has been the longest wait between buying a ticket and seeing the concert
I found my way to my seat at around 7:10pm. There was a supporting band, but they were so bad that I can't remember them!
I was in 2nd row hence the picture quality. There were too many pictures for one page so it is split into 4 pages.
This is page 1 out of 4. Click here for page 2 or page 3 or page 4
Warning : Page 2 and 3 Contains some adult scenes of Kylie Minogue and may be unsuitable for Children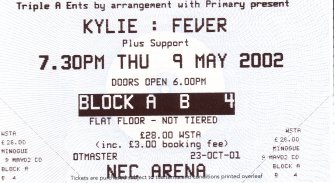 | | |
| --- | --- |
| | |
| It's a robot | No, its Kylie coming out of her shell! |
| | |
| The Opening Number | Sleeping already |
| | |
| Just leaning on his person | Another change of clothes |
| | |
| Looking smart | A strange glow of red lights in the arena |
| | |
| Pint Size Kylie | Watch it, I am looking at you |
| | |
| She Spotted Someone | Attention! |
---
---
You're Visitor Since 1 December 1996
This Page Last Updated
29 October 2005
To email me, please click here