Westlife Concert
At the NEC Arena, Birmingham
Wednesday 22 May 2002
---
On Wednesday 22 May 2002, I had a opportunity of seeing the Westlife Concert at the National Exhibition Centre Arena (NEC Arena) in Birmingham, UK. I ordered the tickets a massive 7 months before the concert. This is the second concert I visited at the NEC in 2 weeks.
I arrived in Birmingham NEC at 6:00pm. The NEC arena is the easiest place to get to, with fast direct train access from Birmingham and London. I arrived at the NEC by car next to the M42. I headed to the NEC main entrance. The ticket for the concert was £28.00, brought in November 2001 via the internet.
I found my way to my seat at around 7:00pm. This is one of the best seating arrangement I have come across. The stage was in the middle of the arena and everyone had a good view, no matter where they sat in the arena. There were 2 supporting band, Lauren Waterworth and Six (The Irish Popstars or put it another away, the Irish Equivant of Hear'say). The Irish Popstars is being shown on SM:TV in UK on Saturday Mornings. I also spotted Brian's Wife, Ex Atomic Kitten Kerry, at the mixing deck.
Most of the photos here are editing as I was further away from the stage. There were too many pictures for one page so it is split into 5 pages. (Have I gone mad!)
This is page 1 out of 5. Click here for page 2 or page 3 or page 4 or page 5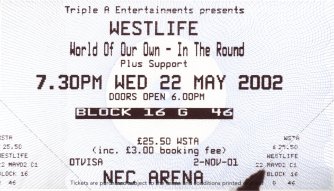 | | |
| --- | --- |
| | |
| It's the Lauren Waterworth Show | Single out the same week as the concert! |
| | |
| 3 Members of Six | Here are all six members of Six! |
| | |
| Where are they pointing | Their Arms are going all over the place |
| | |
| The world's in "World of our Own" | Shane on the big screen |
| | |
| Kian coming out of the world | The Westlife on an end of a rope! |
| | |
| Westlife has landed! | Smile! |
---
---
You're Visitor Since 1 December 1996
This Page Last Updated
29 October 2005
To email me, please click here