Pop Idol Concert
At the NEC Arena, Birmingham
Sunday 24 March 2002
---
On Sunday 24 March 2002, I had a opportunity of seeing the Pop Idol Concert at the National Exhibition Centre Arena (NEC Arena) in Birmingham, UK. I only ordered the tickets just 4 weeks before the concert. This was the follow up to the massive ITV TV Series Pop Idol in which 10,000 people tried to become Pop Idol. The final 10 people (in order of being knocked out of the show) are Korben, Jessica Garlick, Aaron Bayley, Laura Doherty, Rosie Ribbons, Hayley Evetts, Zoe Birket, Darius Danesh, Gareth Gates, and Pop Idol Winner, Will Young. Also at the concert, Nicky Chapman (One of the 4 pop idol judges) and the Big Blue Band, as featured on the Pop Idol Show.
I arrived in Birmingham NEC at 6:40pm. The NEC arena is the easiest place to get to, with fast direct train access from Birmingham and London. I arrived at the NEC by car next to the M42. I headed to the NEC main entrance. The ticket for the concert was £28.00, brought in February 2002 via the internet. This is one of the most expensive tickets I brought for a concert so far.
I found my way to my seat at around 7:10pm. There were no supporting bands here as it would be a very long concert. The Concert was just over 2½ hours long with approx 30 songs, of which more than half was for the Big Blue band.
This was a special concert. It was the same night that Gareth Gates reached the number one spot with Unchained Melody and was presented with a plaque saying that he is the young male solo singer to reach the number one spot. Sky News Camera crew came into the arena during the presentation (I did not know at the time) and was shown that night on Sky News. Also at the arena, during several times in the show, there was complete slience in the arena, which I have never experience before. No one shouting, screaming, clapping etc.
I was in 2nd row hence the picture quality. There were too many pictures for one page so it is split into 3 pages.
This is page 1 out of 3. Click here for page 2 or page 3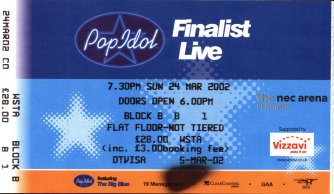 | | |
| --- | --- |
| | |
| Nicky Chapmans, Pop Idol Judge and Host of the show. | Korben |
| | |
| Korben and Nicky | Jessica Garlick, UK Eurovision Song Contest 2002 entry |
| | |
| Jessica and Nicky | Aaron (Train Driver) Bayley |
| | |
| Aaron and Nicky | Laura (Do you know what a comma is) Doherty |
| | |
| Laura and Nicky | Rosie (Pete Waterman's Favourite) Ribbons |
| | |
| Rosie and Nicky | Hayley (Popstars) Evetts, back home in Birmingham |
---
---
You're Visitor Since 1 December 1996
This Page Last Updated
29 October 2005
To email me, please click here