XS2002 Concert
At the Worcestershire County Cricket Ground, Worcester
Sunday 2 June 2002
---
On Saturday 2 June 2002, I had a opportunity of going to the Radio Wyvern's XS2002 Concert at the Worcestershire County Cricket Ground in Worcester. I brought my ticket only 2 days earlier as I only just became free on the day. XS2002 concert is one of many special concerts in the UK to celebrate the Queen's Jubilee. Some other Radio Station in the UK held their own version in June, eg. 2TEN FM in Reading was called Summer XS (I have connections in Reading).
I arrived at Worcester at 15:45, considering the gates opened at 14:30! I tried to find the best place to stand in the grounds, and somehow ended near the front! The concert started at 16:00 with the Commitments. They were on stage for about an hour. Then one by one, the acts came on. One of the biggest acts (what do you think) was Pop Idol's Rik Waller, H and Claire, 3SL, LibertyX and Blue. The concert didn't finish until 22:30 (approx). H and Claire, 3SL and LibertyX were all on for about 20 minutes. Blue was on for about 45 minutes.
What makes this different to all the other concert I been too was this was a standing concert.
All these digital photographs were taken by me. None are copyright. You are free to use them. Please be patient. This page with photos takes 191K. All of the photos here are heavy edited as I was further away from the stage. There were too many pictures for one page so it is split into 2 pages.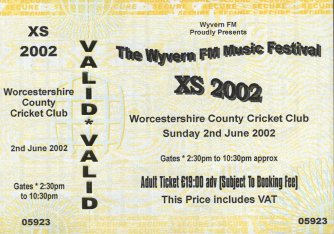 The comittments
Arrora (on the right!)
D-side
D-side

D-side
Rik Waller (you can't get a bigger star than hit!)
Rik Waller
Reel
Reel
Honeybeat
Honeybeat
Thymes 4
Thymes 4
---
---
You're Visitor Since 1 December 1996
This Page Last Updated
29 October 2005
To email me, please click here