Steps Concert
At the NEC Arena, Birmingham
Saturday 20 May 2000
---
On Saturday 20 May 2000, I had a opportunity of seeing one of my favourite pop group, Steps in Concert at the National Exhibition Centre Arena (NEC Arena) in Birmingham, UK. I booked this ticket way back in February 2000.
I arrived in Birmingham NEC at 5pm. The NEC arena is the easiest place to get to, with fast direct train access from Birmingham and London. I arrived at the NEC by car next to the M42. I arrived too early (again). I headed to the NEC Forum area where everyone was gathering. I queued for 40 minutes before we were let in. Everyone had their bags search for illegal cans or cameras! They let in small camera into the arena. Souvenir time! I brought a programme for £8, postcard for £1 and various amounts of food! The ticket for the concert was £17.50, brought in February 2000 via the internet.
I found my way to my seat at around 6:45pm and just sat there looking at the set. It started to fill up quite quickly nearer to 7:30pm, the schedule start time. Steps didn't come on until 9pm. From 7:30pm, 4 supporting groups came onto the stage, all singing 3 songs each. In order, Boom, Northern Line, Buffalo G and Daphne and Celeste. The support groups in total lasted for 1 hour. Steps came on a 9pm and finished at around 10:40pm.
This was my second concert I have visited in person in 11 years, 2nd in a year. The concert was brilliant but I still perfer the steps concert on Sky Box Office shown on 31 October 1999. As I have Sky Digital, I have seen several other concert on Pay Per View TV (£10 each), Spice Girls (August 1998), Boyzone (October 1998), Robbie Williams (July 1999) (FREE), Steps (October 1999) and Spice Girls (December 1999) (FREE on Sky One).
Due to the lighting and my cheap camera, the picture quality is not very good. Flash photography does not work in these situations! With a bit of carefully zooming in using my scanner and my art program, I achieved the following photos.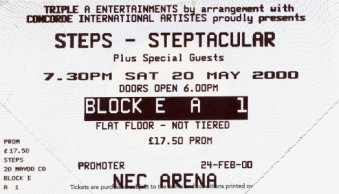 | | |
| --- | --- |
| | |
| Boom | Northern Line |
| | |
| Buffalo G. One is releated to a member of Westlife and Boyzone | Daphne and Celeste |
| | |
| Steps finally come on at 9pm | Steps singing one of their songs |
| | |
| Steps singing another of their songs | H flying through the air |
| | |
| Steps coming down a window cleaner type thing! | Steps singing yet another of their songs! |
| | |
| A clear picture of the set. | Claire, Faye and Lee at the final song |
For Steps Concert 2 in December 2000 Click here
---
---
You're Visitor Since 1 December 1996
This Page Last Updated
29 October 2005
To email me, please click here