Eurovision Song Contest 2002 Results Page
---
For all those people who are interested in the Eurovision Song Contest, here are the results for 2002.
Links to other Pages. More Links at bottom of page.
The 2002 Eurovision Song Contest was held at the Saku Suurhall arena in Tallinn, Estonia on Saturday 25 May 2002. Presented by Annely Peebo and Marko Matvere.
Full results appeared here at 23:40 UK on Saturday 25th May 2002.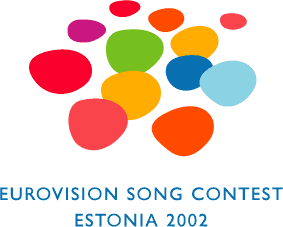 Congratulation to Latvia who is the winner of the 2002 Eurovision Song Contest
2nd : Malta
3rd : Estonia and United Kingdom
(There are some confusing on some online betting sites stating that the UK came 4th, due to the number of 12 points given to a song. UK had it once and Estonia had it twice. One I know paid out on a each way bet for both UK and Estonia and another only paid out for Estonia.)
Please click here for full 2002 details! (Pre Eurovision Night). This detail pages was this page until 25 May 2002.
Results of the contest is found later on this page. Don't click away.
---
(*) Indicate the number of times that a country was awarded 12 points.
This table is interactive! To sort a column, just click on any of the column heading. Click again for reverse sort.
Position
Country
Score
Song
Artist
Draw Order
Language
01
Latvia (5)
176
I Wonna
Marija Naumova
23
English
02
Malta (3)
164
Seventh Wonder
Ira Losco
20
English
03=
Estonia (2)
111
Runaway
Sahlene
8
English
03=
United Kingdom (1)
111
Come Back
Jessica Garlick
2
English
05
France (1)
104
Il Faut Du Temps
(It Takes Time)
Sandrine Frannoise
17
French
06
Cyprus (2)
85
Gimme
One
1
English/Greek
07
Spain (3)
81
Europe's Living a Celebration
Rosa
5
Spanish
08
Sweden (1)
72
Never Let It Go
Afro-dite
12
English
09
Romania (2)
71
Tell Me Why
Monica Anghel & Marcel Pavel
21
English
10
Russia
55
Northern Girl
Permiere Ministr'
(Prime Minister)
7
English
11
Croatia (1)
44
Sasvim Sigurna
(Everything I Want)
Vesna Pisarovic
6
English
12
Israel
37
Bo-u VeNadlik BeYahad Ner
(Light A Candle)
Sarit Hadad
10
Hebrew/English
13
Belgium
33
Sister
Sergio & The Ladies
16
English
13
Bosnia-Herzegovina
33
Na Jastuku Za Dvoje
(On A Pillow For Two)
Maja Tatic
15
Bosnian / English
13
Slovenia
33
Samo Ljubezen
(Only Love)
Sestre
22
Slovenian
16
Turkey
29
Leylaklar Soldu Kalbimde
(The Lilacs Faded In Your Heart)
Grup Safir
19
Turkish
17
Greece (1)
27
S'agapo
(I Love You)
Mihalis Rakintziz
4
English/Greek
18
Austria (1)
26
Say A Word
Manuel Ortega
3
English
19
FYR Macedonia (1)
25
Od Nas Zavisi
(It Depends On Us)
Karolina
9
Macedonian
20
Finland
24
Addicted To You
Laura Voutilainen
13
English
21
Germany
17
I Can't Live Without Music
Corinna May
18
English
22
Switzerland
15
Dans Le Jardin De Mon Ame
(In The Gardens Of My Soul)
Francine Jordi
11
French
23
Lithuania
12
Happy You
Aivaras
24
English
24
Denmark
7
Vis Mig, Hvem Du Er
(Tell Me Who You Are)
Malene
14
English
The winner was Latvia, the first time they won.
For Background to the 2002 Eurovision Song Contest, please click here.
For UK Selection Details, please click here.
For 2002 song lyrics, please click here.
Here is the situation regarding the varies of Countries for 2003 contest.
Many thanks to Noam in Israel for these information.
2002 Winner
Latvia
Automatic Qualification regardless of score
France, Germany, Spain, United Kingdom
Automatic Qualification due to disqualification from 2002
Ireland, Iceland, Norway, Portugal, Netherlands, Poland
Qualified for 2003
Malta, Estonia, Cyprus, Sweden, Romania, Russia, Croatia, Israel, Belgium, Slovenia
Now The following qualified for 2003
Bosnia Herzegovina, Turkey, Greece, Austria,
May be for 2003 (Now in 2004)
Albania, Ukraine, Belarus, Yugoslavia (serbia-montenegro)
Disqualified from 2003
FYR Macedonia, Denmark, Lithuania, Switzerland, Finland
Did not broadcast 2002 contest, hence automatic disqualification
Hungary, Slovakia,
No Longer Interested in taking part.
Italy
No Longer EBU members
Luxembourg, Yugoslavia (all change)
Active Members of the EBU. Can enter if they wish
Tunisia, Algeria, Bulgaria, Czech Republic, Egypt, Lebanon, Libya, Monaco, Morocco, San Marino, Syria, Vatican State
---
The full jury score sheet can be downloaded from here, including the entries. Please click here for details.
---
---
You're Visitor Since 1 December 1996
This Page Last Updated
15 May 2014
To email me, please click here