My Visit to Birmingham Eurovision Party 2003
At the National Indoor Arena In Birmingham, UK
---
I had a opportunity to go to the first Birmingham Eurovision Party 2003 on Saturday 24 May 2003. Tickets cost £34 for the VIP ticket and £17 for the ordinary ticket.
Links to other Pages. More Links at bottom of page.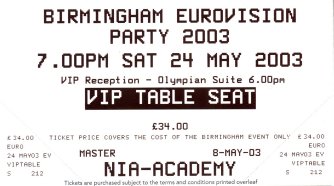 VIP tickets had the following benefits over the ordinary tickets.
A Buzz Fizz or non alcoholic drink (orange juice) at reception.
Meet and greet the celebrity, in this case Cheryl Baker and Gina G
Table seating on the Arena floor.
Buffet style food
Waiter/waitress bar service
I got a chance to meet both Gina G and Cheryl Baker and got both their photos and autographs.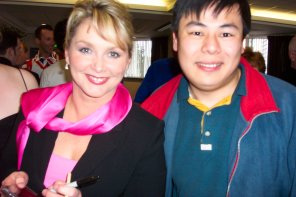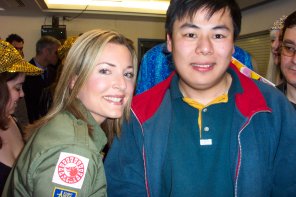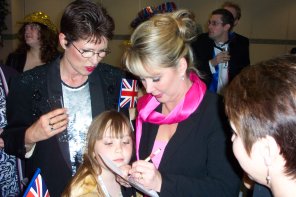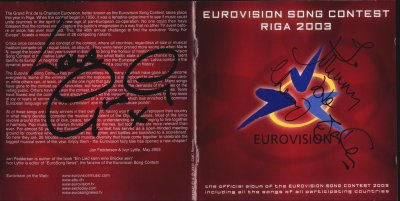 Visit Gina G's new website (obviously after you have finish looking at this site)
At 5:50pm we went into the Olympian Suite at the National Indoor Arena (lower level) where we were offered Buzz Fizz or Orange Juice. We got the chance to purchase the official Eurovision Song Contest 2003 Programme, which I got for £20. This was very limited. Around 6:20pm, Cheryl Baker came into the Suite at the main entrance. Then about 2 minutes after she walked in, she started signing autographs and photos. About 10 minutes, Gina G came in and there was another queue. Well queue was not the word. They both signed photos, books, CDs and on a printed sheet of paper
.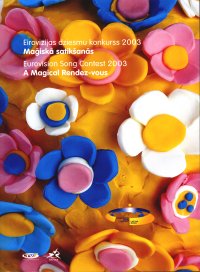 Around 6:45pm, we all headed towards our table on the Arena Floor. There were tables everywhere. Now we are feeling very important.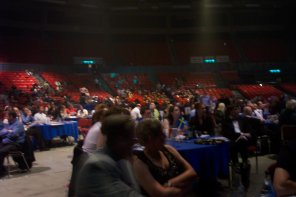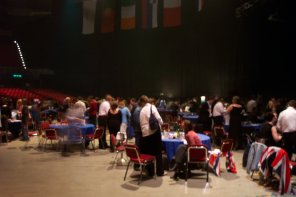 Just after 7.10pm, the night started by showing the original 1998 Eurovision clip then a marching band came on stage. May be the original ones from 1998?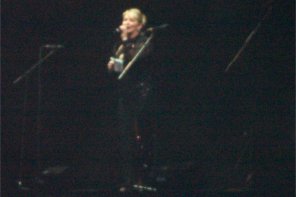 Cheryl Baker, the host of the evening came on stage to welcome everyone to the arena. Terry Wogan left a special message for the people who are at the party.
Soon after, previous Eurovision Winner, Brotherhood of Man came on stage to sing some of their songs. When they came on stage, a lot of people suddenly got off their seats and headed to the front of the arena next of the stage. There were no attempt by any of the security staff to stop people doing that. It is a party. So people were dancing, taking photos and basically enjoying themselves.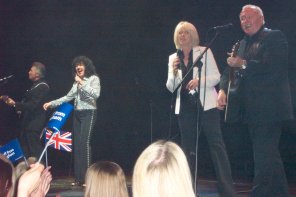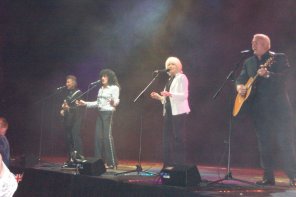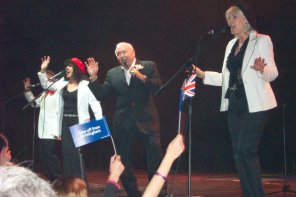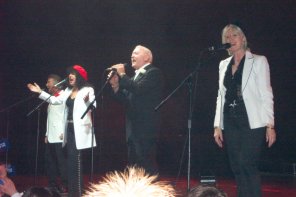 About 7:40pm, Gina G came on stage to do a few numbers. Same thing happened, everyone got up. Not to mention her dress! Also Gina went into the crowd and still singing!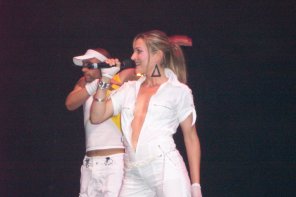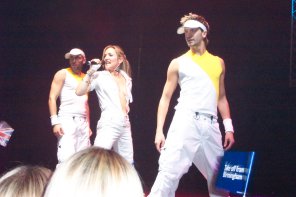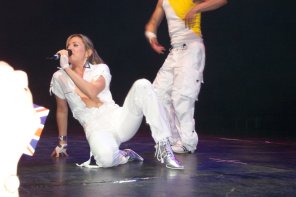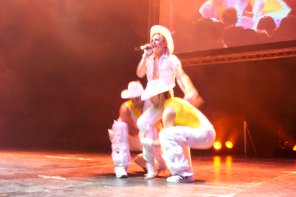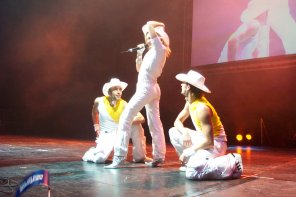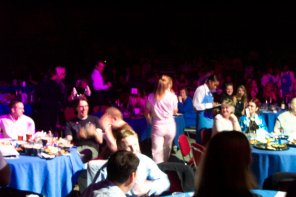 About 8pm, the Eurovision Song Contest 2003 started and we all got back to our seats and watched the contest on huge screens. I had a loudspeaker next to me, and the volume was loud.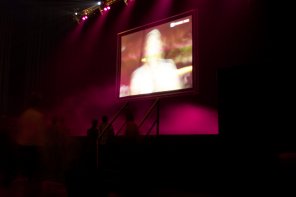 Some of the key points before the contest.
Eurovision 1998 film titles cat and welcome us there
Terry Wogan left a special welcome message
Brotherhood of Man came on and did a few numbers
Gina G came on and also did a few number
During the contest
Laughter when Austria came on
Cheers when Terry Wogan mentions Parties across the country including National Indoor Arena, Birmingham.
When Germany came on, everyone was clapping and flags waving
Everyone was going crazy when the UK came on. Some even got up and dance at the front of the arena.
Everyone had a chance to vote for their favourite in the arena. Well I televoted as well as voted in the arena. Results below.
Shock about certain scores including UK nil points
Prizes were given away to the best fancy dressed group, a draw from all the votes to win tickets to Westlife.
After the contest has ended, the arena winners were announced. In last place with no votes at all, France. 3rd Place was Sweden with 9% of the votes. 2nd Place was the United Kingdom with 10% of the votes and the arena winner was Germany with 20% of the votes.
It was a fantastic night and left around 11:30pm. They may be a Eurovision Party 2004. May go to Turkey instead!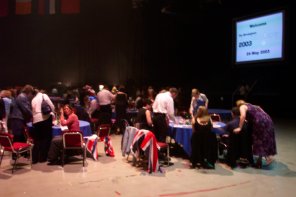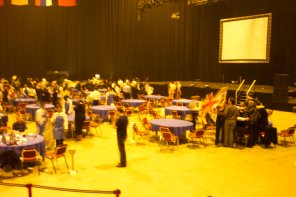 ---
---
The full jury score sheet can be downloaded from here, including the entries. Please click here for details.
---
-----> To return to the 2003 page, click here <-----
---
---
You're Visitor Since 1 December 1996
This Page Last Updated
15 May 2014
To email me, please click here